More Related Stories
Fujitsu Delivers Unified Data Protection Appliance at Lower Cost of Growth
November 28, 2012 --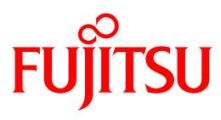 SUNNYVALE, CA -- (Marketwire) -- 11/28/12 --

News Facts
The Fujitsu ETERNUS(R) CS800 S4 data protection appliance delivers flexible scalability at a lower cost of growth
The attractive entry version offers full functionality -- including deduplication, data replication, and path-to-tape -- at no extra charge
Perfect in combination with Symantec and CommVault backup software, the new appliance is an easy-to-operate and powerful way to manage data backup
Fujitsu today enables even small and mid-size organizations to benefit from data-protection peace-of-mind at an affordable and transparent price, along with the cost advantages offered by closing no doors on environment or back-up medium options. Launched today, the new-generation Fujitsu ETERNUS CS800 data protection appliance enables flexible data growth without high pre-investment, offering smaller organizations comprehensive functionality at a fixed price, plus a seamlessly scalable version for midsize environments.
Making backup and recovery more efficient and reliable, the ETERNUS CS800 is a data protection appliance for backup to disk with deduplication. The deduplication functionality, as well as the replication and path-to-tape software, is included in all versions, at no extra charge, and with no hidden costs -- putting unified data protection within any firm's grasp. The latest deduplication technology reduces capacity requirements by up to 95 percent and by deduplicating the data from all connected host systems, network-bandwidth needs for replication can be reduced by a factor of 20 or more.(1)
Customers want to pay for only the capacity they need now, and simply add more as they need it. The Fujitsu ETERNUS CS800 S4 scalable version can comfortably grow in seamless upgrades to 240TB without the hassle of migrating to another model, or experiencing high costs at every growth spurt. The attractive entry version is perfect for small and medium-sized businesses (SMBs), and branch offices of larger companies that need no more than 10 TB, where it enables further consolidation of hardware resources. For the first time, this data protection appliance allows customers to use either or a mix of Storage Area Network (SAN) or Network-Attached Storage (NAS) environments.
The ETERNUS CS800 S4 enables customers to fully utilize all its advantages, while minimizing operational effort and costs, due to close integration with Symantec(R) NetBackup(R) and Backup Exec and CommVault(R) Simpana(R) backup software. While the ETERNUS appliance consolidates target systems and simplifies their operation, the backup software adds powerful functionality to manage backup processes from the servers to the targets.
As one of the first appliances to support Symantec NetBackup OST with A.I.R. (Auto Image Replication), ETERNUS CS800 S4 simplifies backup to disk to remote locations, and facilitates disaster recovery. The unique ability to load a CommVault Simpana media agent on the appliance also allows customers to write data directly onto the appliance without needing extra server hardware and at reduced network traffic.
Supporting Quote
Richard McCormack, Senior Vice President, Enterprise Systems, Fujitsu America
"Effectively protecting data is of vital importance to businesses of all sizes -- even the smallest. The new-generation ETERNUS CS800 data appliance provides customers with an effective, reliable, and affordable way to protect the lifeblood of their business. ETERNUS keeps data safe, whether in SAN or NAS environment, and regardless of preferred mix of disk or tape media."
Note to the Editor
(1) Fujitsu claims based on multiple private and public customer references, including Nassauische Heimstätte / Wohnstadt (See Case Study at http://212.52.239.202/files/pdf/CS_Wohnstadt_en_web.pdf)
Pricing and Availability
Fujitsu ETERNUS CS800 S4 is available globally now. It is sold via direct sales or Fujitsu Channel Partners. Prices vary depending on configuration and capacity of the appliance and the region.
Further Information
About Fujitsu
Fujitsu is the leading Japanese information and communication technology (ICT) company offering a full range of technology products, solutions and services. Over 170,000 Fujitsu people support customers in more than 100 countries. We use our experience and the power of ICT to shape the future of society with our customers. Fujitsu Limited (TSE: 6702) reported consolidated revenues of 4.5 trillion yen (US$54 billion) for the fiscal year ended March 31, 2012. For more information, please see http://www.fujitsu.com
Fujitsu America, Inc. is a leading ICT solutions provider for organizations in the U.S., Canada and the Caribbean. Fujitsu enables clients to meet their business objectives through integrated offerings and solutions, including consulting, systems integration, managed services, outsourcing and cloud services for infrastructure, platforms and applications; data center and field services; and server, storage, software and mobile/tablet technologies. For more information, please visit: http://solutions.us.fujitsu.com/ and http://twitter.com/fujitsuamerica.
Fujitsu, the Fujitsu logo, ETERNUS and "shaping tomorrow with you" are trademarks or registered trademarks of Fujitsu Limited in the United States and other countries. Symantec and NetBackup are trademarks or registered trademarks of Symantec Corporation in the United States and other countries. CommVault and Simpana are trademarks or registered trademarks of CommVault Systems, Inc. in the United States and other countries. All other trademarks referenced herein are the property of their respective owners. Information provided in this press release is accurate at time of publication and is subject to change without advance notice.
Add to Digg Bookmark with del.icio.us Add to Newsvine
Press Contacts
Fujitsu America
Karen Richardson
408-746-3300
karen.richardson@us.fujitsu.com

Finn Partners
Carol Edwards
212-593-5858
carol.edwards@finnpartners.com


Copyright @ Marketwire
Related Keywords:
Fujitsu, ETERNUS, storage, data protection, appliance, SAN, NAS, Symantec, backup, deduplication, IT, Sales,Sales & Marketing,Storage,Business Issues,Hardware,Services,Software,Misc,Backup,Sales,Sales,Canada,USA,Marketwire, Inc.,Appliances,Business,disaster,Other,
---
Source:Marketwire. All Rights Reserved